MDS iNET 900 Transceiver Radio
SKU:

MDSINET900

UPC:

646444662963
Description
The MDS iNET Series is an industrial wireless solution that provides long distance, unlicensed communications allowing users to interface with Ethernet and serial controllers. Comprised of the iNET 900 (generic MPN: INET-AP/DG) and iNET-II, the iNET Series offers the best balance of speed and range to enable a wide variety of applications requiring higher data capabilities than typical communication systems can provide. The iNET Series combines the higher speed of Digital Transmission Systems (DTS) with the robustness of Frequency Hopping Spread Spectrum (FHSS) technology.
Key Features:
Unlicensed IP/Ethernet and serial data communication

High speed, long range point-to-multipoint

Prevents unauthorized network access and secures wireless data

Reduce configuration and integration costs with a single-box solution

Advanced unlicensed interference mitigation algorithms

Operation in extreme temperature ranges and hazardous locations
Specifications.
Data Range: 512/256 Kbps user configurable air link, 1,200-115,200 bps serial ports

Frequency Band: 902-928 MHz ISM band

Spreading Mode Frequency Hopping Spread Spectrum

Coverage Range: Up to 30 mi. (40 Km.)

Configurations Access Point/Remote Dual Gateway Configurable by customer as access point or dual gateway (serial and Ethernet/IP connections) Remote Serial Gateway, 2 serial port connections Remote Ethernet Bridge, 1 Ethernet connection with multidrop capability

Ethernet:10BaseT, RJ-45

Serial:RS-232/V.24, DB-9F, DCE RS-232/V.24, DB-9M, DTE

Antenna: TNC connector (female)

LEDs: Lan, Com 1, Com2, Power, Link

Wireless: CSMA/CA Wireless Protocol with Collision Avoidance

Ethernet IEEE 802.3, Spanning Tree (Bridging), IP (DHCP, ICMP, UDP, TCP, ARP)

Serial Protocols: Clear channel mode for serial async multidrop protocols including Modbus, DNP.3, DF1, BSAP.

Carrier Power: 0.1 to 1 watt (20 to 30 dBm)

Output Impedance: 50 Ohms

Occupied Bandwidth: 316.5 kHz

Modulation CPFSK (Continuous Phase FSK)

Temperature -30°C to +60°C (-22°F to +140°F)

Humidity 95% at 40°C (104°F) non-condensing

Input Power: 10.5-30 Vdc (13.8 Vdc nominal)

Ext. Power Supply: 48 Vdc, 110/220 Vac

Case: Die Cast Aluminum

Dimensions: 1.25 H x 6.75 W x 4.5 D in. (3.15 H x 17.2 W x 11.2 D cm)

Weight: 2lbs(.9kg)

Mounting options: Flat surface mount brackets, DIN rail, 19″ rack (1U high)
Sample Application:

Technical Specifications
Industrial Hardened
Operation in extreme temperatures from -30ºC to +60ºC
CSA Class 1/Div 2 approved for operation in hazardous locations
Reliable & Scalable
Two-way point-to-multipoint communication
High receive sensitivity for noisy environments and long distance communications
Handles multiple industry protocols including Modbus, Modbus TCP, and DF1
Application Flexibility
High speed, long range IP/Ethernet and serial communication accommodate multiple services on one infrastructure
Multiple services operate simultaneously on the same network
Industry standard software compatibility in an industrial grade hardware platform
Security
Multiple layers of cyber security for iNET-II including:
- RADUIS Authentication
- VLAN traffic segregation
- Proprietary hopping patterns
- AES 128-bit encryption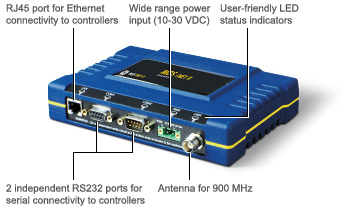 Contact us for additional accessories or alternate configuration not listed above
View All
Close