Tropos 6320 Outdoor Mesh Router (Dual-Radio)
SKU:

63203030
Description
Tropos 6320 Outdoor Mesh Router
The 6320 Outdoor Mesh Router is designed to provide a cost-effective, easy to deploy, high-performance networking solution for outdoor environments. Lightweight and compact, the 6320 router delivers signifi cant performance increases through support for the 802.11n standard, a next-generation high sensitivity radio design, and the incorporation of new patented features into the industry-leading Tropos Mesh Operating System.
Key Software Features
Decentralized architecture optimizes throughput in realtime and ensures scalability
Dynamic selection of optimal end-to-end path delivers the highest performance
Network performance and capacity maximized by automatic optimization of power and rate on per-connection and per-packet basis
Key Platform Features
Support for 802.11n features deliver signifi cant performance enhancements
Cost-effective, compact, lightweight design streamlines site sourcing and deployment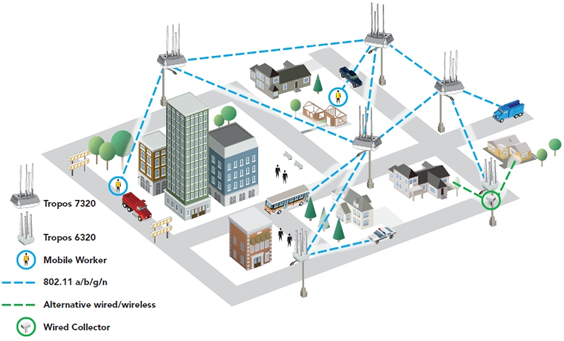 Please contact us for a full network/system integration estimate including antennas & management software.
View All
Close