Tropos 7320 Outdoor Mesh Router
Tropos 7320 Outdoor Mesh Router
Product Description
Tropos 7320 Outdoor Mesh Router
The 7320 Outdoor Mesh Router is a full-size wireless networking platform designed to deliver high performance in outdoor environments. Architected to provide maximum fl exibility and confi gurability, the 7320 router delivers signifi cant performance increases through support for the 802.11n standard, a next generation high-sensitivity radio design, and the incorporation of patented new features into the industry-leading Tropos Mesh Operating System.
Designed for creating or expanding higher-capacity networks, the 7320 router is a dual-band unit with one 2.4 GHz and one 5 GHz radio that supports meshing and client connectivity at both frequencies. The platform provides superior performance and resiliency, and enables the network to be scaled to the highest-capacity confi gurations through deployment of additional Tropos routers.
Key Software Features
Decentralized architecture optimizes throughput in realtime and ensures scalability
Dynamic selection of optimal end-to-end path delivers the highest performance
Network performance and capacity maximized by automatic optimization of power and rate on per-connection and per-packet basis
Key Platform Features
Support for 802.11n features deliver signifi cant performance enhancements
Flexible, modular form factor can be customized with userselected antennas
Supports the industry's widest array of power input options
Ideal for providing source PoE to co-located devices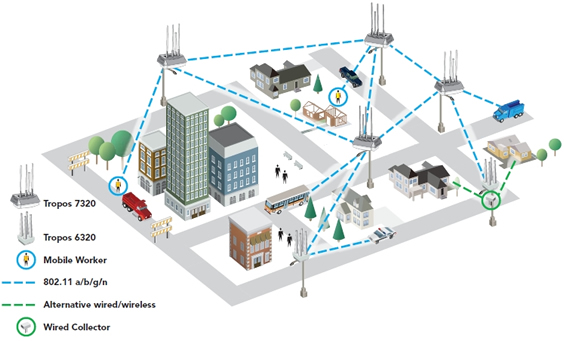 Please contact us for a full network/system integration estimate including antennas & management software.
Find Similar Products by Category